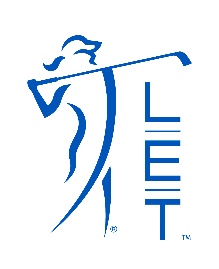 The Ladies European Tour (LET) has launched a fresh logo, new website and tag line, #RaiseOurGame, capturing the ambition of the new LPGA-LET joint venture partnership and a shared desire to keep moving women's golf forward.
The brand refresh includes a short film created in-house, capturing the passion and potential of the LET players, celebrating their hard work, dedication and perseverance.
Narrated by Solheim Cup star Suzann Pettersen and with a script written by multiple LET champion Meghan MacLaren, it focuses on the hard work and determination it takes to achieve goals, inspiring women and girls to pursue their passion and realise their potential through the game of golf.
Meghan MacLaren, who wrote the script, said: "I loved working on this project and it was great to play an active role in the new direction of our Tour. This is an exciting time for the LET and for women's golf and to see the growth potential as we look ahead to the future for the next is very fulfilling. I've always worked hard to raise my game and I'm proud to be a Member of a Tour which gives us the opportunity to raise our game further."
Meghan's script focuses on the fierce commitment required to compete at the highest level and highlights the importance of the friends, family and wider community of tournament promoters, sponsors and media who together lay the path to drive women's golf forward:
It starts with something we can't define. 
It's a dream, but we're too young to know what it is, where it might take us.
Our family, coaches, friends… they know. On cold winter mornings and warm summer nights, they help us shape it into something we believe in.
Sometimes we lose it. Sometimes we stop believing. Sometimes we wonder if it's all really worth it… but we don't stop.
Because in every new city that embraces us and every new partner who invests in us, on every Monday that promises and every Thursday that threatens to take away – we have a chance to find it again. A chance to believe again. A chance to make each moment our own.
But it's yours too, because you're there by our side, guiding the way. You helped create it.
So it's time to believe, in all of our dreams.
Together, let's raise our game.
MacLaren also wrote a first-person piece, telling the story of how she raised her game.
Read Meghan's #RaiseOurGame story here.   
Suzann Pettersen, one of the most iconic European golfers of all time, who holed the winning putt at the 2019 Solheim Cup, said: "I wouldn't be where I am without the LET and I'm excited about the next chapter of the Tour's history as it looks to provide even more opportunities for women and girls in the game. I'm thrilled to narrate this inspirational video, re-branding the new LET. The future is bright for the LET and its Members."
LET Chief Executive Alexandra Armas said: "This brand refresh expresses our excitement about the LET and its future, how passionate and proud we all are to represent this strong new brand and that we are in this journey together with our partners, determined to create greater opportunities for the women who play golf today and for the ones that will follow in the future.
"It has been an unprecedented and eventful start to the new decade. In January, we announced a record-breaking schedule and we were extremely excited about the 2020 season. Due to the coronavirus pandemic, it has been a challenging time for us of late, but we are now focused on the long term.
"This is not only the time to preserve tournaments in 2020 but to build the future that we're so excited about moving forward for women's golf. 2020 is a building block to a bigger and better 2021, 2022 and beyond. Together, let's do all we can to raise our game."